This is probably my all-time favourite chili recipe that's really simple to make since you just throw it all in a slow cooker! This chili is really low in fat, which you may think is a good thing, but the truth is that you need fat in your
diet to help keep you feeling full and satisfied (or you'll just be hungry again quickly). So I always try to put some sort of full fat/light shredded cheese or full fat/light sour cream on top of the chili to help balance that out. Without the cheese/sour cream, there's about 280 calories, 45g carbs, 22g protein and 2g fat. Enjoy!
http://www.thecomfortofcooking.com/2012/02/crock-pot-chicken-taco-chili.html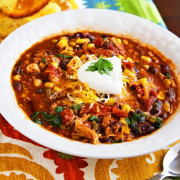 Crock Pot Chicken Taco Chili
INGREDIENTS:
① 1 16 oz. can black beans, drained
② 1 16 oz. can kidney beans, drained
③ 2 garlic cloves, minced
④ 1 medium onion, chopped
⑤ 1 jalapeno pepper, minced
⑥ 1 green bell pepper, chopped
⑦ 10 oz. package (1 1/4 cups) frozen corn kernels
⑧ 1 8 oz. can tomato sauce
⑨ 1 28 oz. can diced tomatoes, drained
⑩ 1 tbsp. cumin
⑪ 1 tbsp. chili powder
⑫ 1 tsp. dried oregano
⑬ 1 tsp. kosher salt
⑭ 1/2 tsp. freshly ground pepper
2 boneless, skinless chicken breasts, uncooked
1/4 cup chopped fresh cilantro
Optional toppings: Additional cilantro, shredded cheese, chopped scallions, red onion, sour cream, etc.
DIRECTIONS:
Combine ingredients 1 through 14 in a slow cooker*. Stir until combined. Place uncooked chicken on top and cover. Cook on low for 6 hours or on high for 4 hours, stirring occasionally.
Thirty minutes before serving, pull chicken breasts apart with two forks. Stir and continue cooking. Top with fresh cilantro or any other desired toppings.
Enjoy!
* Tip: If you don't have a slow cooker, you can also use an oven safe, 5 1/2 quart or larger pot. Simmer at 350 degrees, stirring occasionally, for 3 hours.